Bringing you electric air travel out to a thousand miles

On your schedule
2-4 times faster
door-to-door

Breakthrough
economics
Fares below commercial

Fly to
every community
10,000+ airports

Tread lightly
80% lower noise and emissions
Fast, affordable and everywhere
What if you could get to places much faster than you can today? What if flying cost a lot less than it does today? If thousands of communities were connected by air service? What if aircraft were quieter, with far lower emissions?
We're making it so.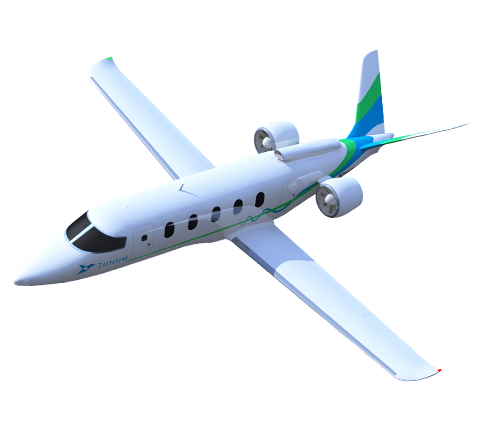 Join our mailing list to follow our progress.
We're changing the way people travel


Get there much faster — and on your schedule
Imagine leaving your doorstep in San Jose at 7 AM and making it to a 9:30 AM meeting in Pasadena. With Zunum Aero, simply drive to a nearby airfield and walk to your aircraft with bags in tow, for a trip that will take half the time and at a much lower fare. Or skip the meeting altogether, and be on the slopes in Tahoe by 8:40 AM for $100 round-trip, and back home the same evening.

Fly to thousands of communities
We are a land of towns and communities, many with airports, but few with regular air service. Our stock of 13,500 airports is the largest in the world, yet just 140 of the largest hubs carry over 97% of air traffic. This has left many of us with long drives to catch a flight, while on shorter trips we skip air travel altogether. Communities without good air service also struggle to attract investment and create jobs.
Electric aircraft of varying sizes are ideally suited to this critical need, requiring little support other than a GPS flightpath and a quick recharge or swap facility on the tarmac. Be it Moses Lake, Beaumont, Santa Fe or Butte: prepare for the convenience of frequent electric air service.

Tread lightly
Did you know that short-haul flights produce over 40% of aviation emissions? With our aircraft, we believe these will be largely eliminated within twenty years. Our aircraft are "hybrid-to-electrics" that sip fuel only when they have to, will use even less over time as batteries upgrade, and will one day go completely without — so that flying will be kind to the Earth.
Who We Are
We are dreamers, engineers and pilots primarily based in the Seattle, Chicago and Indianapolis areas. We are over 3 years into our journey toward democratizing access to high speed travel. We are passionate about high-speed connectivity to every community and neighborhood, so you can live where you like, get anywhere fast, and leave behind a healthy planet.